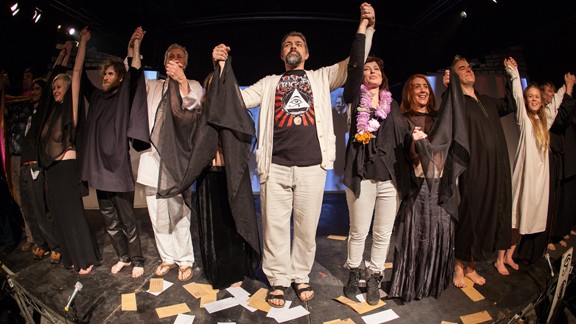 Heroic Brilliance
Cosmic Trigger Play is the back story to Illuminatus! featuring the extraordinary life and times of its co-author, Robert Anton Wilson, and the unstoppable force that was Ken Campbell. The script by Daisy Eris Campbell (Ken's daughter) is based on Wilson's book that inspired a generation. This play changes lives!
The crowd-funded short première runs in Liverpool and London during 2014, together with our Find The Others conferestival, were hailed a great success. We are therefore proud to announce plans for some new shows…
Watch The Theatrical Trailer
The 2017 Bio-Revival Shows
To commemorate the 10th anniversary of Wilson's death, we are planning a run of 23 bio-revival shows in London during May 2017. The culmination on 23rd July 2017 (Robert Anton Wilson Day) will be an 'enthusiasts' production in Santa Cruz, USA (his home town).
We want to make the play, and in particular the London shows, Bigger! Better! Bouncier! And in order to do that, we have decided to apply for grant FUNding.
But there's a trick with funders – they need to see hard cash and proof that we have a keen as mustard audience from the beginning. So to help our application we will be pre-selling tickets to the future…
The #OthersConnect Ticket Pre-Sale
At 5:23pm on Saturday 23rd April 2016 we launched a special limited ticket pre-sale. This is for the last night of the London run of Cosmic Trigger Play including admission to day-time talks, film showings, art, music and merriment, plus the after-show party with cast and crew – all on 27th May 2017.
These 123 exclusive tickets are only available via this pre-sale on Indiegogo. It's the #OthersConnect event – you just have to be there!
More Eye Candy From 2014
Crowdfund Teaser Art
A Talk about the play
Selected Photos from The 2014 Shows