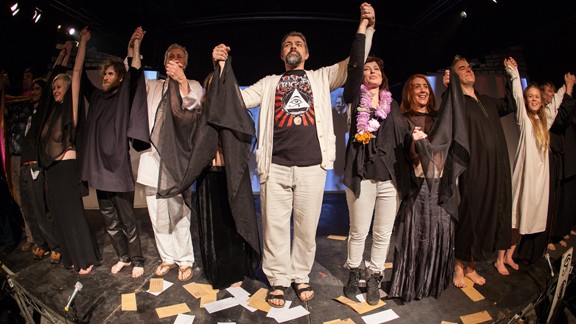 Heroic Brilliance
Cosmic Trigger Play is the back story to Illuminatus! featuring the extraordinary life and times of its co-author, Robert Anton Wilson, and the unstoppable force that was Ken Campbell. The script by Daisy Eris Campbell (Ken's daughter) is based on Wilson's book that inspired a generation. This play changes lives!
The crowd-funded R&D performances in Liverpool and London during 2014, together with our Find The Others conferestival, were hailed a great success…
Audience Reactions
"Intriguing, ambitious. A genuine voice;
compassionate, witty, life affirming.
Pure theatre that deserves our support"
Terry Johnson, writer/director 'Mrs Henderson Presents'

"Daisy Campbell is a 'can do' shining light in the cautious corners of most current theatre"
Pauline Collins OBE, actress
"Book now. Theatre at its dangerous best"
Richard Hope, actor at RSC & National Theatre
"Robert Anton Wilson's 'Illuminatus' had a profound effect on me and the Cosmic Trigger Play will no doubt do the same for a whole new generation"
Alan Moore, renowned graphic novel author
"Incredible. Beg, borrow or steal for a ticket, change your plans to be there. Mind Blown"  DJ Food
"Magic in every sense especially literally"
Ian 'Cat' Vincent, journalist at Fortean Times
"The theatrical happening of the year"
Liverpool Confidential newspaper
"Daisy Eris has created a masterpiece & reignited a movement. Watch the play, come join in"  Sez Vero
See our press page for full reviews.
The 2017 Bio-Revival Shows
We are therefore proud to announce plans for some new shows. To commemorate the 10th anniversary of Wilson's death, we are planning a run of 21 bio-revival shows in London during May 2017. The culmination on 23rd July 2017 (Robert Anton Wilson Day) will be an 'enthusiasts' production in Santa Cruz, USA (his home town).
The #OthersConnect Ticket Pre-Sale
In April 2016 we pre-sold 123 exclusive tickets for the last night of the London run of Cosmic Trigger Play including day-time talks, films, art, music and after-show party (all on 27th May 2017).
They sold out in 20 hours! But fear not, we hope to sell some more tickets to the future in the future.
Selected Eye Candy
Crowdfund Teaser
A Talk about the play
Photos from The 2014 R&D Shows