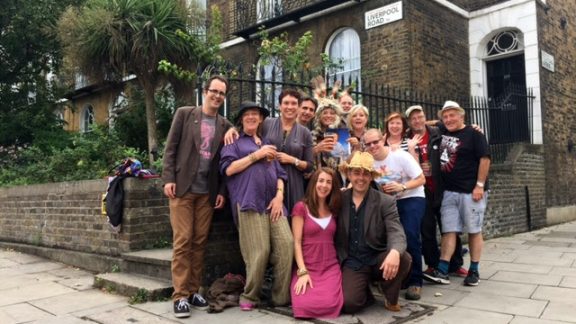 The Crew 2017
The Mycelium are an independent theatre company with passion and vision. Cosmic Trigger is uniquely commanded by a collective of tireless co-producers. In 2017 we have teamed up with The Cockpit to co-produce this show for the love of Bob and to bring together all The Others.
Co-Producers
Daisy Eris Campbell – Writer + Director
Dave Wybrow – Executive Producer
Kate Alderton – Executive Co-Producer
Dominic Search – Financial / Technical Director
Michelle Watson – Special Events Director
Michelle Olley – Marketing Director + Social Media
Claudia Boulton – Head of Costume + Popery
Designers
Amoeba – Set Design, Poster and Animation
John Horabin – Animation
Chris Lincé – Lighting Design
Robert Burnham – Musical Director
Myra Stuart – Scenic Elements Designer
Money Burning Guy – Programme + Merchandise
Sara Perks – Stage Design Consultant
Technical
Deb Jones – Technical Production Manager
Nadia Luijten – Stage Manager
Bethany Pratt – Assistant Stage Manager
Thea-Ellida Eike – Assistant Stage Manager
Louise Hickman – Assistant Stage Manager
Tom Lee – Facilities Manager
Phil Clucas – AV Operator
Nic Alderton – Podcast Producer
Camille Lesaffre – Production Technician
Kimberley Elderbrand – Costume/Wardrobe Assistant
Larry Sidorczuk – Props Maker
Adam Glover – Illuminatus Stage Designer
Shepherd Moiety – Set Builder
Jay Que – Rigger
Music & Sound Contributors
Fayann Smith – '8 Circuits' + 'Black Mass'
Takatsuna Mukai – 'True Illuminati'
Megan Clifton – 'Man Made'
Enix Inri – 'Eris Arrives' + sound design
Viv Galvagna – 'Eris Arrives' + sound design
Space Blaster – 'Operation Mindfuck'
Super Weird Substance –
'Serious Sirius Super Weird Space Party'
Steve Fly – Additional Musical Contributions
Viv Boot – Sound Consultant
Irving Rappaport – Podcast Host + Props Build Assistant
Claudia Boulton – Podcast Host
Alistair Fruish – Podcast Host
Graphics & Photo Contributors
Melinda Gebbie – Graphic Artwork
Simon Annand – 2017 Production Photography
Jonathan Greet – Programme + Stills Photography
Andrew AB – Stills Photography
Adam Clark – Stills Photography
Beccy Strong – Stills Photography
Elspeth Moore – Stills Photography
Laurence Blyth – Film Maker
Stefana Brancastle – Film Maker
Dom Richardson – Film Maker
Christian Wach – Website Design
Venue Management
Clare Ajenusi – Wage Queen
Fayaz Zayat – Weekend Manager
Kat Gardener – Head of Press & Marketing
Madelaine Bennett – Press Consultant
Beth White – Listings and Contracting
Nicola Lince – Front Of House Manager
Akilah Dale – Ticketing
Dayna Pearson​ – Reception​Ista Sister
Korein Brown​ – Engagement Lead
Abeo Neequaye​ – Bar​ Empress
Grace Cook​ – Bar​ Charm
Olivia Rose​ – Bar Chill Out ​
Kate Lee​ – Bar Live Act​
A.K Addo​ – Bar Love
Chimmy Kalu​ – Bar ​Love
Helen Barnett​ – Bar Smoulder​
Greg Oliver​ – Bar Idol
Jennie Buckley​ – Bar Facepainter​
Miau Vartiainen​ – Bar Glamour​
Cosmic Elves
Ian 'Cat' Vincent – Magickal Ritual Services
Cate Kneale – Social Media Captain
Dolly Dollycore – Social Media Wonderment
Kate Lane – Theatre Student Liason
Mitch Davies – Artist In Residence
Dave Jones – Tactical + Emergency Services
Grant Du Plessis – Special Events Technician
Fran Loze – Special Events Steward
Leeanne McAllister – Special Events Steward
Nikki Blinston – Special Events Costume Designer
Viv Boot – Special Events Steward
Jacqueline Haigh – Special Events Steward
Support From and Thanks To
Christina 'Karuna' Wilson, The Alderton Partnership, Bill Drummond, Giani Fabricio, Matt Cameron-Wilton, Isobel Hawson, Ben Duke, Roy Hutchins, Stuart Heyes, Elisha Hindley Cupper, Megan Lucas
And finally, very special thanks to the staff,
students and governors of City Of Westminster
College who own and support The Cockpit and
without whom this would not be happening.
The Mycelium is a trading name of
Love And Will Productions Limited
registered in England No 08756507
24 Wakefield Road, Brighton, BN2 3FP, UK