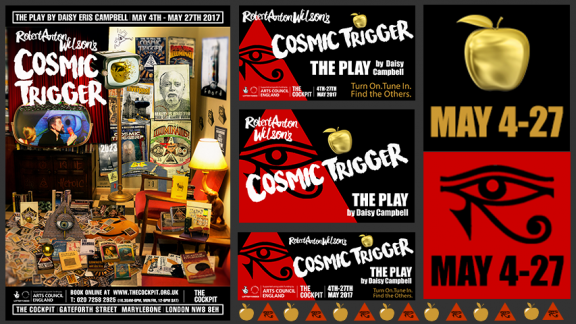 The Play
What is it About?
It's a biography of Robert Anton Wilson based on his book Cosmic Trigger and an art-magick journey through Chapel Perilous, a dangerous occultist crossing point from which one either emerges paranoid or agnostic.
Structured as three one-hour acts, the play dances between two timelines – the writing of Illuminatus in the 1960's and the staging of it by Ken Campbell in the 1970's; and also between two realms – real life biography and fictional segments from Illuminatus.
It seamlessly blends comedy, drama, sci-fi, and the down-right weird.  The play's storyline (and Wilson's real life) includes Aleister Crowley, Dr Tim Leary, LSD, brain-change experiments, tantric yoga, mediation, and techniques for selecting reality tunnels.
Our staging, stagecraft and direction are designed to constantly challenge the audience's perception of reality and encourage them to question the nature of belief.
The shows are a form of art-magick: the intentional use of performance to create change in the viewer's psyche that expands their mind and creates ripples well beyond the theatre.
As Crowley himself said, "the artist is in truth a very much superior being to the Yogi or the Magician".
In the age of Trump, ISIS, Brexit, and climate change, Wilson's message is as relevant today as it was in the 1960's.
Most people are slaves to their beliefs and enact unconscious behavioural programming learned from parents, peers, schooling, (social) media, and 4 billion years of evolution.  This can lead to terrible and unnecessary conflict and suffering.
But it doesn't have to be that way – beliefs are infinitely malleable under conscious control; behavioural responses can be intentionally reprogrammed.  The techniques aren't complex, but they do require the Will to change.
Our aim is to create a push for the receptive.
Excerpts From The 2014 Show
When Did it Happen Last?
The last run comprised 23 shows at The Cockpit in London during May 2017. The first full performances happened in Liverpool's Camp and Furnace during the weekend of 23rd November 2014 (Discordian holy day) – the opening night of Illuminatus was 23rd November 1976. This was followed by a short run in London's LOST Theatre on 26th-29th November 2014.
How Did We Make The Show?
It's a big production with a lot of moving parts… fourteen actors (including two cameos that change each night) together play 33 characters… plus a different surprise cabaret performer per night… and sumptuous wrap-around digitally animated scenery blended with old-fashion stage trickery.  You absolutely are meant to get completely lost down this rabbit hole!
Not content with the already insane complexity of mounting our first production together in 2014, we decided to set the opening night within the Find The Others Conferestival which we organised in parallel… and to built ourselves a theatre within a warehouse in 4 days flat.
As Ken used to say "Ask yourself: is it HEROIC?"… if it isn't bonkers impossible then it isn't worth doing!
The 2014 run was part-financed by crowdfund.  The 2017 run was supported using public funding by the National Lottery through Arts Council England, and was co-produced by The Cockpit; we also produced four accompanying Special Events.
Want to Know More?
As plans for staging Cosmic Trigger took shape in 2014, an event was held at The Kazimier in Liverpool – a taster of things to come.  This 50 minute extract will fill you in on the what's and why's of Cosmic Trigger Play.  Features Daisy Eris Campbell, Oliver Senton, Josh Darcy, Alan Moore, and John Higgs.  Many thanks to Lee Isserow and Nic Alderton for filming and editing.
"I feel that language contains all sorts of dangers & traps. I think Korzybski & Bandler have done more than any other writers I know of to liberate us from the tyranny of language and learn how to use language efficiently intelligently humorously without hypnotising ourselves with it." – R.A.W