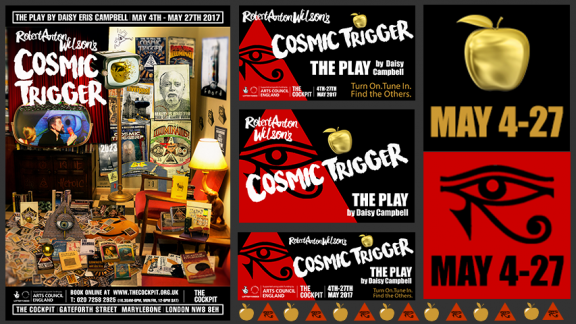 The Play
What is it About?
It is a biography of Robert Anton Wilson based on his book Cosmic Trigger. It is a journey through Chapel Perilous, a dangerous occultist crossing point, from which one either emerges paranoid or agnostic.
It includes:
The writing (and living) of Illuminatus, the cult novel which launched a million conspiracy-freaks; Stumbling, via LSD and Aleister Crowley onto a 6500-year-old conversation with the planet Sirius; Dreaming up the formula, with Timothy Leary, of positive human evolution; Co-conspiring to create the Discordian religion, which worships Eris, the Goddess of Chaos and Confusion; Tantric sex, musical sing-alongs and mass initiations; Bob's fellow Discordian being accused of being "the second Oswald" in JFK's assassination; Mind-blowing visual effects, extraordinary musical soundscapes, and proper "Ken Campbell style" acting.
Excerpts From The 2014 Show
When Did it Happen Last?
The last run comprised 23 shows at The Cockpit in London during May 2017. The first full performances happened in Liverpool's Camp and Furnace during the weekend of 23rd November 2014 (Discordian holy day) – the opening night of Illuminatus was 23rd November 1976. This was followed by a short run in London's LOST Theatre on 26th-29th November 2014.
Want to Know More?
As plans for staging Cosmic Trigger took shape in 2014, an event was held at The Kazimier in Liverpool – a taster of things to come.  This 50 minute extract will fill you in on the what's and why's of Cosmic Trigger Play.  Features Daisy Eris Campbell, Oliver Senton, Josh Darcy, Alan Moore, and John Higgs.  Many thanks to Lee Isserow and Nic Alderton for filming and editing.
"I feel that language contains all sorts of dangers & traps. I think Korzybski & Bandler have done more than any other writers I know of to liberate us from the tyranny of language and learn how to use language efficiently intelligently humorously without hypnotising ourselves with it." – R.A.W