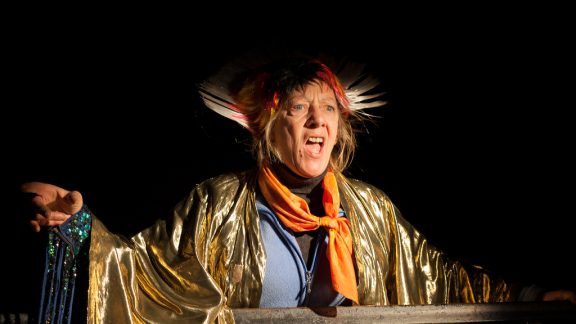 Claudia Boulton
Characters In Cosmic Trigger Play
---
Claudia is 40 years a theatre maker. Founder member of Beryl & the Perils, furious feminist fun in the 70's; With Ken Campbell; Warped first time around Edinburgh, and again with Daisy Campbell at the Drome; 1999 -2000 actor/managed that juggernaut of a show for 15 long weekends.Instead of theatre PHD- toured worldwide as Winnie in Sam Beckett's Happy Days.
Created the Serpent in Peter Greenaway's Prop Opera; !00 Objects to Represent the World. Directed Robert Anton Wilson's, Wilhelm Reich In Hell; and re- wrote Douglas Adams' So long and Thanks for all the Fish as, Don't Panic You're in Bali. In Bali. Now performs Table Top Theatre – classic dramas in short form – for hire.
In addition to playing Eris, Claudia is also co-producer of Cosmic Trigger Play and Conferestival.