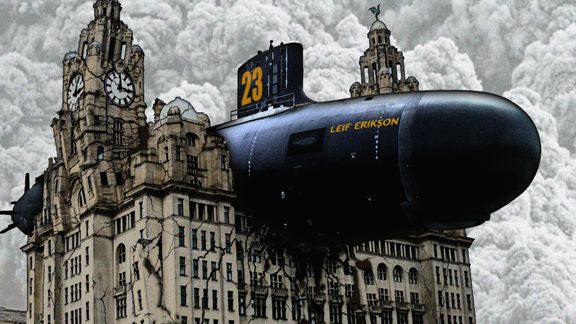 Walkabout
Impro, Fun, Games & Messing about
Sun 23/11/14, 11:23am – 23:23pm (and beyond)
Impropriety
Headstrung Puppet Cabaret
Caustic Widows
Some Hairee Kuntz
---
Impropriety

Impropriety are Liverpool's premier improvisation theatre company. They use fun, games and messing about a bit to create scenes, songs and silliness never seen before, or to be seen again! With professional performers from a variety of backgrounds, Impropriety creates its own unique style that's high on improv, low on script.
Formed by the survivors of Oh, Wait!, Liverpool's first improvathon in 2008 in memory of Ken Campbell, Impropriety have been performing shows and running workshops ever since.
Following a spectacular relaunch show at The Kazimier in January 2010, work has included 5 subsequent 33.5hr improvathons, 2 weekly improvised soap operas The Regenerates and The Tragical Past and Mysterious Present of Sodem Hall as well as regular short form shows. Impropriety is based at Mello Mello, Liverpool. Impropriety has also extended its reach to performing outside of Liverpool including London, Manchester, Canada, Australia and Kendal.
---
Headstrung Puppet Cabaret
Headstrung create puppet cabaret performances for adult audiences. They develop work that is anarchic and cheeky with a strong cartoon influence, that blurs the boundaries between the puppet and the performer. For The Cosmic Trigger Experience they will present their David Bowie puppet act performed by Eilidh Bryan, Beccy Hillam and Katy-Anne Bellis.
---
Caustic Widows
Caustic Widows are a radical performance group based in Liverpool who create surreal happenings, walkabout characters and theatrical experiences inspired the absurdity of the human condition. Their work is often situated in unusual spaces, and merges performance art, cabaret, physical theatre and dark clown to create work that is visually dynamic, challenging, witty, moving and absurd. They will be bringing you "The Meta Programming Stylophone Surgeon", performed by Claire Jones, Tony Cairns and Katy-Anne Bellis.
http://causticwidows.wordpress.com
---
Some Hairee Kuntz
Some Hairee Kuntz are some of Thee Hairee Kuntz, a hooded, playful sisterhood who work with ritual and free improvised music to surprise, experiment, invoke and kick some ass. Featuring members of a myriad of other groups, including Binnsclagg, Academy of the Sun, Four Manatees, The A Band, Dead Pets Society and The Firm; what started out as a tribute to Brighton rawk and shouters Thee Bald Knobbers has taken on more than a life of its own. All night dancing vigilantes. The flight of ducks. Spacetime flowing together chaos. BANG.
https://facebook.com/Thehaireeekuntz
---