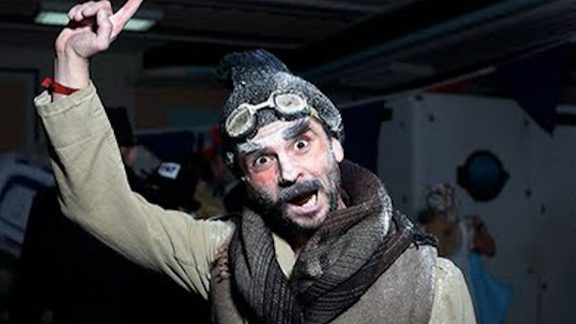 Leigh Kelly
Characters In Cosmic Trigger Play
Graham Wilson / Goat Man / Greg Hill / Slim Brooks
---
Leigh trained at LAMDA with fellow trigger puller Kate Alderton. Kate got a part in 'The Warp' and I went to see it, thinking I'd stay an hour or two but I was there, enthralled, for all 22 record breaking, mind bending, hours. I met Daisy and Ken a few weeks later at the Albany in Deptford. Ken said  "Get up on those rocks and give us your Puck then … better than I expected. You're in."
Theatre: Ken Campbell's Pidgin Macbeth (National Theatre and West End) The Southwark Mysteries (Shakespeare's Globe), Othello (Nottingham Playhouse), Julius Caesar (The Barbican), Dream Space also for the Globe and Manuel in Faulty Towers The Dining Experience.
Film:  Lead role in Love In The Post an award winning feature using the principles of philosopher Jacques Derrida, and two British 'Bollywood' films – Naachle London and Eailing Comedy.
Co creator of Clay Theatre and Film – Their current production 'More Manet For Your Monet – The Hipster's Pantomime' runs from mid June at The Courtyard Theatre.