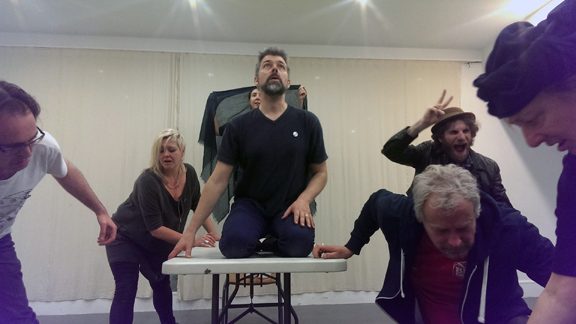 Cosmic Clarity
All Hail Discordians,
It's almost exactly a year ago since I publicly announced my intention to stage Cosmic Trigger – and blow me down… it's really happening!
Rehearsals began on Monday (with the Black Mass scene and Bob's first trip – we thought we'd ease ourselves in gently). So in four weeks time we welcome you to The Cosmic Trigger Experience in Liverpool, and shortly afterwards for five shows in London.
To see the programme for The Cosmic Trigger Experience CLICK HERE.
To listen to a Cult of Nick podcast interview about latest cosmic developments  CLICK HERE
I'm talking cosmic and counter-culture on Saturday 1st November with Greg Wilson's Super Weird Happening in London. LINK HERE
And the wonderful Thomas Calderbank has set his review of our Liverpool caper to music of course CLICK HERE.
On another note, we've had a bit of feedback that booking tickets is a bit complicated. You didn't think it would be easy to be initiated into the Illuminati, did you??
So here we go, clearest communication yet:
If you want the full Cosmic Trigger Experience, call and book your ticket from The Liverpool Everyman on 0151 709 4776. Note, however, the Venue is in fact Camp and Furnace DIRECTIONS HERE. You will need to arrive by 2.23pm on Saturday 22nd to watch The World Premiere of Cosmic Trigger Play, all four hours of it, to be followed with The Papal Ball and Cabaret. You'll need somewhere to kip for a few hours that night and then come back to the same venue for Sunday 23rd, where The Find the Others Conferestival will go on all day. If you have to get back to London, the 20.47 gets you back for Midnight. There are limited weekend tickets left, so please book soon to avoid disappointment, as they say.
We have teamed up with company Wimdu, who are offering a Cosmic Discount for air bnb-style accommodation on the Saturday night CLICK HERE. Secret Code: COSMICTRIGGER2014
If you are based in Liverpool (or near enough), you may just want to see the play. You can. There is a preview show on Friday 21st November at 7.30pm, the cost of which is £23/£13. If the top of your head is blown off and you are compelled to return on Sunday, you will be able to get a Sunday festival ticket that night, at a cost of £23 (subject to availability). Book for Friday preview show by calling 0151 709 4776. Again, tickets through The Everyman, but performance at Camp and Furnace
If you wish to see just the play in London, you can! You call Lost Theatre on 0207 622 9208 and take your pick of a 7pm show on 26th-29th November, or a matinee show at 1pm on 29th. Lost Theatre is 208 Wandsworth Rd, London SW8 2JU DIRECTIONS TO LOST THEATRE HERE
So there you go, now you know.
Can't wait to see you in Liverpool or London. Oh, and those of you in the UK – your crowd-fund perks are posted!!
Hail Eris! And Praise Bob!
xx xxx Daisy