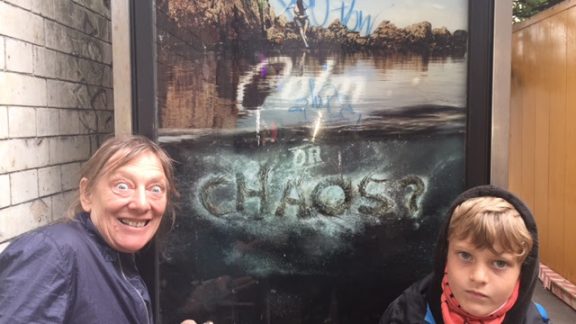 Happy 23rd!
All Hail Discordians,
Happy 23rd!
The Mystery Threads are intersecting once more and the signs are everywhere. Only yesterday, on our way back from the 750-years-overdue consecration of Crossbones Graveyard, we found the above artwork.
So, Cosmic Trigger will rise again in the UK – the exact details of when and how are of course in Our Lady Eris's chaotic hands…
All we can is say is that The Cosmic Trigger Happenings are likely to be early 2017 – the ten year anniversary of Bob's death – and we intend that this Fertile Triggering will jujzsh the right juices our way,  enabling us to get the whole Discordian Circus to the States to Find the Others over there…
And if that's too long to wait for more Cosmic fun – well, then come and find me talking if you're at Port Eliot festival or at No 6 Festival where Super Weird Substance are staging an all day happening…
Or come to Treadwell's esoteric bookshop for a talk by Ian 'Cat' Vincent (who you may remember married us lovely if you were in Liverpool) about Robert Anton Wilson's Magickal system.
And there's another Frabjous Caper we're scheming up for 2016 – but the Apple Corp will kill me if I declare it just yet…
Meanwhile, Keep on Triggerin'
xx xxx Daisy