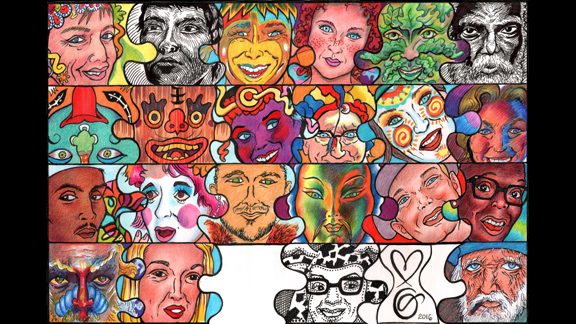 Others Connect – 6 May 2017
Ways With Weirds
Special Event 3:00pm – 1:30am
Cosmic Trigger Play 7:00pm – 11:00pm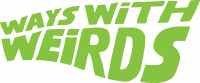 Ways with Weirds is the underground, militant art wing of The Green Funeral Company, run by radical undertakers Claire and Rupert Callender.
Originally a tent at Port Eliot festival, Ways with Weirds has morphed into a number of fluid memes; a situationist graffiti slogan, a UFO cult's mantra to bend the space time continuum, a recognised terrorist code warning, a discrete occult greeting, a short lived flavoured yogurt drink, a niche psychiatric delusion that your dad is really Kenneth Anger, an inadvisably complex skateboard move, and a hardy variety of early flowering Clematis.
It's current meaning is an umbrella term to describe their public activities that don't actually end with a burial or cremation. These may include talks on the influence of punk, rave culture, crop circles and chaos magick on their 17 years as undertakers, hosting various countercultural events, guerrilla unadvertising, and a bewildering ancestral ritual designed to disorientate that they call Devon Voodoo.
Programme
Hosts – Ru & Claire Callender
Talk – Daisy Eris Campbell
Talk – John Higgs
Guest Performer – Salena Godden
Walkabout – Jacqueline Haigh
Walkabout – Human Robber
Debate – 'QUESTION 24' by GOODJEFF (Jeff Laster)
Chapel Perilous – Lisa Lovebucket
Music – DJ With (Daveid Phillips)
Visuals – Suicider
---
Ru & Claire Callender
(Hosting Ways With Weirds)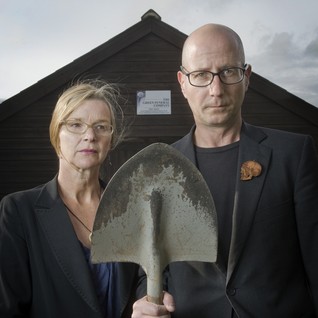 Ru and Claire Callender are ceremonial undertakers and sextons. Their stripped back naturalistic approach to funerals is influenced by punk, rave, the natural death movement, Quakerism, crop circles and Malcolm X, and increasingly they use weird ritual as a way of coping with the accumulation of grief.
Ru wrote the fifth edition of The Natural Death Handbook, the Little Red Book of the funeral revolution, and edited the collection "Writing on Death" with contributions from Bill Drummond and Gary Lachman. The Natural Death Handbook is not available from Amazon, but directly from an ex nuclear command bunker which is the headquarters of The Natural Death Centre.
Claire and Rupert become Ways with Weirds when they are joined by DJ WITH, real name Daveid Phillips, the shadowy Svengali who changed the course of modern music. Daveid Phillips once mistakenly wrapped Bob Dylan in up in a stage curtain and toasted the future with Kurt Cobain. One enjoyed it, one didn't.
http://thegreenfuneralcompany.co.uk
---
Daisy Eris Campbell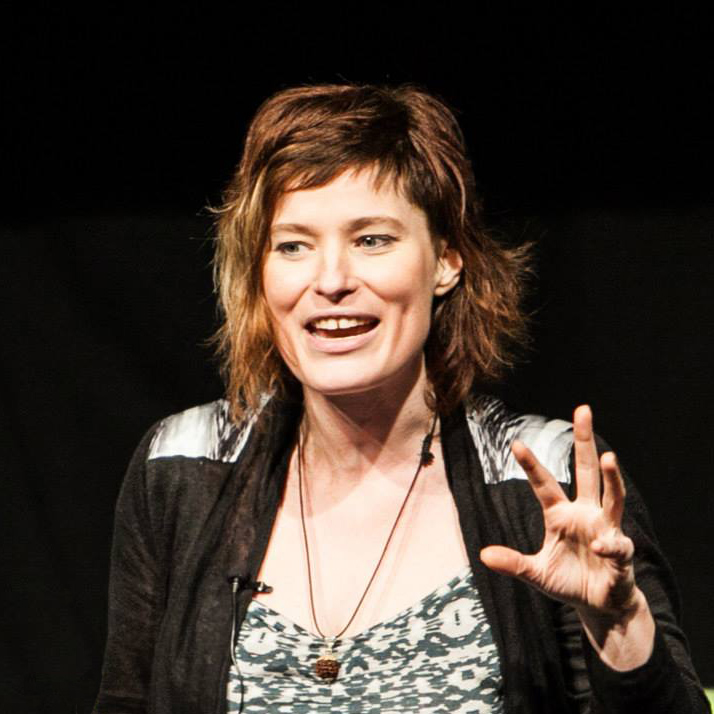 Daisy is the writer & director of Cosmic Trigger Play.
She worked alongside her father Ken Campbell for many years, on Pidgin Macbeth and other capers.
She directed The Warp, the world's longest play, staged in London amidst a rave; co-conceived The Questival, a festival of future consciousness; wrote & directed a collection of short plays; her children's play, School Journey to the Centre of the Earth, was performed at the National Theatre; she co-directed Beyond Our Ken, also at the NT.
Daisy also has an MA in Production and an MSc in Transpersonal Psychology.
---
John Higgs
John Higgs is author of The KLF: Chaos, Magic and the Band who Burned a Million Pounds; I Have America Surrounded: The Life of Timothy Leary; and Stranger Than We Can Imagine: Making Sense of the Twentieth Century. He also writes fiction under the name JMR Higgs, including The Brandy of the Damned and The First Church on the Moon.
http://jmrhiggs.blogspot.co.uk
---
Salena Godden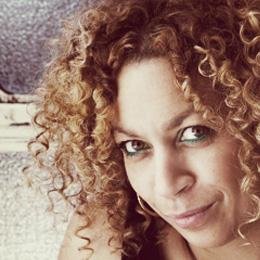 Salena Godden has been described as 'The doyenne of the spoken word scene' (Ian McMillan, BBC Radio 3's The Verb); 'The Mae West madam of the salon' (The Sunday Times) and as 'everything the Daily Mail is terrified of' (Kerrang! Magazine). The 'Under the Pier' poetry pamphlet was published by Nasty Little Press in 2011. 'Fishing in The Aftermath / Poems 1994 – 2014' was published in July 2014 with Burning Eye Books.
The eagerly awaited literary memoir 'Springfield Road' was successfully crowd funded and is being published on September 30th 2014 with Unbound Books. The Springfield Road ebook is now available. Salena appears at literary events and festivals internationally and she is on BBC as a guest on various shows like 'The Verb', 'Fact to Fiction' and 'The Click'. She works with award winning radio producer Rebecca Maxted, writing and presenting radio documentary's. 'Try A Little Tenderness – The Lost Legacy of Little Miss Cornshucks' was originally aired throughout May 2014 on BBC Radio 4.
---
Jacqueline Haigh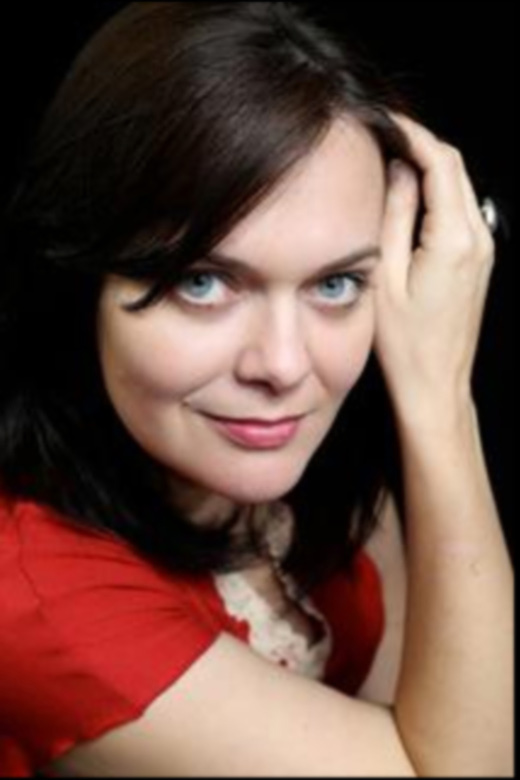 Jacqueline is a writer, performer and director. She started her career in theatre, writing / performing the critically acclaimed one woman shows Madwoman In The Attic (Riverside Studios) and Melodrama For Woman and Fridge (Edinburgh Fringe, winner of The Herald newspaper award) and writing / directing vaudeville musical Catwoman Colette.
She was shortlisted for The Stage Award for Acting Excellence, worked extensively with Ken Campbell, playing leads in Pidgin Makbed and 24 hour cult epic The Warp, appeared in legendary sketch show Newsrevue and improvised comedy at The Gilded Balloon.
She has an MA in Scriptwriting, with commissions including The Glastonbury Grail, The Sacred Quest, spec TV comedy drama The Circle, shortlisted BAFTA Rocliffe New Writing Forum, and God's Gift, selected for Cascade Media's Writer's Couch.
She wrote / directed Ex, and Do You Come Here Often?, a comic documentary about reincarnation for Channel 4.
---
Human Robber
Human Robber (aka Brother Gush, Frater Null, Uncle Big Balls, Pope Margaret Minge XXIII etc) is a 53 year old work in progress………word mangler, wand maker, definite wizard or warlock but unsure witch. Former teacher he now attempts to explain this humans condition via the medium of poems, silly songs and impossibly true stories…..rumoured to actually be an alien from the star system sirius c……maybe….
---
'QUESTION 24' – GoodJeff (Jeff Laster)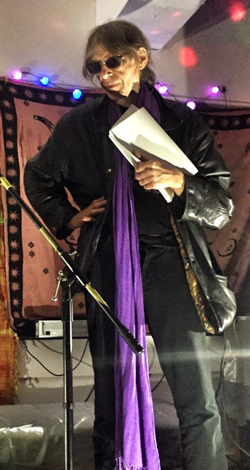 'QUESTION 24' is a debate that asks "is Robert Anton Wilson still relevant in the age of ISIS and Trump?"
The debate's chair, JEFF (GoodJeff) LASTER, has had between one and two feet in various parts the Alternative Culture  since he was a teenager.
Growing up in Brooklyn, New York in the turbulent 60's, aged 16 he joined the infamous 'revolutionary' WEATHERMAN group in 1969 and has since given many talks on the subject.
He came to the UK in the 90's and linked up with Rave Culture Impressario FRASER CLARK and played a central role in developing the concept of 'CONSCIOUS CLUBBING' in various Alternative Rave Clubs founded by Fraser, where he focused on hosting feisty Alternative Talks and Debates on subjects including Psychedelics and Political Protest Strategies.
During this time he edited 'DIGNITY' a BOB DYLAN music analysis magazine and he is still an obsessive DYLAN fan.
In 1999-2000 he played a significant role in putting on the legendary 22 hour play 'THE WARP' at Fraser's 'WARP EXPERIENCE'  Rave Club.
In 2006-2009 he resumed putting on Talks at the, 'SYNERGY PROJECT' where among other things he hosted the great KEN CAMPBELL paying tribute to the great ROBERT ANTON WILSON.
Now in his 60's, he still hosts Alternative Talks / Debates and prides himself on his balanced views of the Alternative Culture and his willingness to criticise it when necessary! He is not afraid to be politically incorrect.
His motto, taken from Krishnamurti, is 'YOU ARE THE WORLD'.
---
Lisa Lovebucket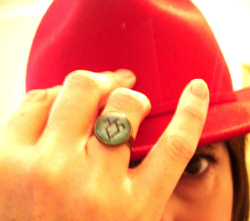 Lisa Lovebucket has been writing, designing and producing unnerving, bizarre and confounding publications since she was sixteen years old.
After moving to London 23 years ago, she began organising and hosting music, film, poetry, cabaret and multimedia events and allnighters (including Jah Poetry!, Hail Eris!, All Hail Discordia!, Cephalopodia and The Institute of Unpopular Music – "better than anything else in the whole, entire world" according to the Guardian Guide).
She sought out Ken Campbell after reading page 223 of Cosmic Trigger (aged 23) and thenceforth tumbled slowly at first and then headlong into Chapel Perilous, aided by Israel Regardie's Middle Pillar, Damanhur's Personalities Within, Peter J Carroll's PsyberMagick and Neil Oram's 24-hour long play The Warp.
She has stood for Parliamentary Election twice (running her campaigns from a retired ambulance); danced outside the gates of Downing Street for 2 hours, 23 minutes under lysergic influence and with full support of the police; formed her own religious organisation (the Church United in the Name of Thinking); acted in The Warp and MI23; won the Poetry Challenge with her performance of The Love Song of J Alfred Prufrock; written and performed '23' at Passing Clouds and Glastonbury; adapted part of PKD's Divine Invasion for the stage; and has spent many happy hours SCUBA diving with sharks, turtles and rays.
She loves many, trusts few, and always paddles her own canoe.
---
DJ With (Daveid Phillips)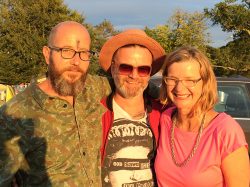 He is the DJ in the dynamic trio that is Ways With Weirds. Hence the 'With' He is also known as DP.
He nearly broke his Cosmic Trigger in Liverpool in Nov 2014. He may be the only person you know who has toasted the future with Kurt Cobain had a curry with Kraftwerk, accidently wrap Bob Dylan up in a back drop and very nearly knock Madonna over on the stairs. He has booked the Reading Festival when it was interesting, and a Tribal Gathering.
He spent a decade steering KOKO in London in some kind of direction and has now embarked on a new adventure in Newcastle as M.D. of the Boiler Shop venue where he has just booked Einstürzende Neubauten to play.
He also puts on an annual weekend of musical delights at a secret Cornish location, that is limited to a very special gathering of 200 like minded souls.
He is an animal loving vegetarian whose only regret was not getting to see Miles Davis live. He favourite band is Throbbing Gristle, but he mostly loves a good time
at the Discothèque.
---
Suicider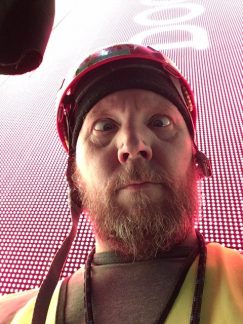 Decidedly average digital ninja and pixel tosser.
After spending his formative years as assistant to the assistants assistant video engineer on the Leif Ericson, Suicider cashed in his 2.3 flax shares (total value of 23p) and used stolen biosurvival tokens for a one way ticket to alpha centauri to further his training as a digital ninja and psychic pixel tosser. Through years of half arsed training and very little work Suicider achieved absolutely nothing and was forced to return home after an unfortunate incident involving yack milk, a nuclear powered dildo and an unnamed Plethunian princess's father.
Penniless and with multiple boot marks on his arse he returned to earth to continue his work with Hagbard Celina who promptly said to him to "Who are you and what are you doing in my bathroom wearing fishnets and arsless chaps?!? Fuck off and get a job you dirty hippy"
In recent years the multiverse has presented Suicider with countless profitable opportunities to become famous and fabulously wealthy. He promptly pissed these opportunities up against the wall outside London Bridge station choosing instead to investigate the life lessons found at the bottom of a can of red stripe.
A few weeks ago our hero was offered the chance to VJ at some half baked play put on by some lunatic fringe group known only as 'The others'. Having no idea what VJ'ing was he promptly jumped at the chance when some blond tart promised him free beer and hot bitches. He replied with the words "no fucking idea what that is luv but I'll give it a go"
As a result Suicider will be giving his first ever live video performance, fowling on the footsteps of the mediocre visual artists that have cum before him.