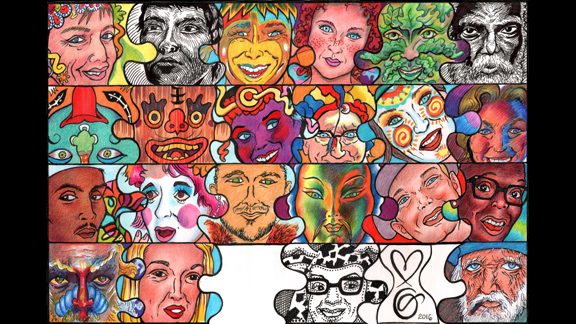 Sunday Salon – – 21 May 2017
Breaking Convention
Special Event 1:00pm – 10:30pm
Cosmic Trigger Play 5:00pm – 9:00pm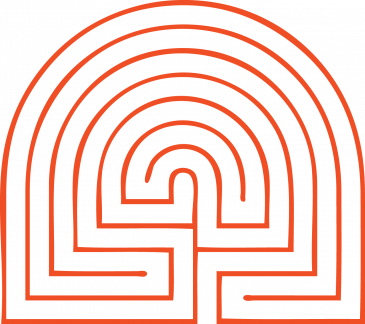 Hosting 150 interdisciplinary presentations over three days, across four simultaneous academic tracks, Breaking Convention is one of the biggest psychedelic meetings in the world. The conference features more than a dozen interactive workshops, a visionary art exhibition, installation gallery, psychedelic film festival, theatre and performance. The fourth Breaking Convention conference will be held at the University of Greenwich 30 June – 2 July 2017.
http://www.breakingconvention.co.uk/
Programme
Host – Dr David Luke
Talk – Dr Ben Sessa
Talk – Maria Papaspyrou MSc
Performance – Poems From The Southwark Mysteries
Film – Maybe Logic
Walkabout – Freak guitar puppet (Noel Kellett)
Stall – Herbalosophy (Rachael Stevens)
Tarot Reading – Steve Balsamo
Music & Visuals – Cosmic Trigger Experience

Delicious lunch (inc vegetarian) available on site.
---
Dr David Luke
(Hosting Breaking Convention)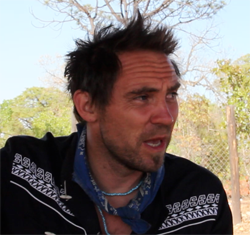 Having read RAW's Quantum Psychology as a spotty youth dabbling with his brain like a toy chemistry set David set off for university to study psychology to understand all this crazy mind stuff and soon after ended up on the pointy end of the classroom.
He's been trying to ram as much magic in through the backdoor of the Academy ever since, having taught hundreds of bemused students, churned out a few weird academic books and (dis)organised numerous pineal squeegeeing events, such as the Questival, Psychic Lysurgery and the UK's three most ambitious psychedelic conferences.
The rest of the time he spends researching weird people doing weird things in weird places in weird states of consciousness and then telling anyone who will listen all about it.
http://www2.gre.ac.uk/[…]/staff/dr-david-luke
---
Dr Ben Sessa (MBBS BSc MRCPsych)
Dr Sessa is a consultant child and adolescent psychiatrist working in adult addiction services and with custodial detained young people in a secure adolescent setting. He trained at UCL medical school, graduating in 1997. He is interested in the developmental trajectory from child maltreatment to adult mental health disorders.
Dr Sessa is currently a senior research fellow at Bristol, Cardiff and Imperial College London Universities, where he is conducting the UK's first clinical studies with MDMA-assisted therapy for the treatment of PTSD and alcohol dependence syndrome.
In the last ten years he has worked on several UK-based human pharmacology trials as study doctor or as a healthy subject administering and receiving test doses of LSD, psilocybin, MDMA and ketamine.
He is the author of several dozen peer-reviewed articles in the mainstream medical press and has written two books exploring psychedelic medicine; The Psychedelic Renaissance (2012) and To Fathom Hell or Soar Angelic (2015).
In speaking publicly at universities and medical conferences, Dr Sessa is outspoken on lobbying for change in the current system by which drugs are classified in the UK, believing a more progressive policy of regulation would reduce the harms of recreational drug use and provide increased opportunities for clinical psychedelic research.
He is a co-founder and director of the UK's Breaking Convention conference.
---
Maria Papaspyrou MSc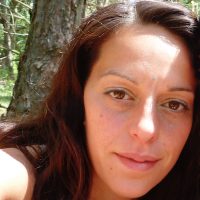 Maria has worked as an integrative psychotherapist in the fields of mental health and education, alongside her private practice. Her research interests have focused on the interface between entheogenic experiences and psychotherapy, as well as the intersections between the archetypal feminine and altered states of consciousness.
She has given talks and published articles in both festival and academic circles on the sacramental and healing properties of entheogens, supporting their re-introduction in psychotherapy. She is the co-founder of Club Imaginal, a lecture series in Brighton, and always in search of creative narratives that can engage our individual and collective potential and restore our connection to the energies of the world soul.
Title: Feminine Soul and Altered States
The powerful links humanity once held with nature have gradually eroded, and our primordial links with the feminine depth and essence have been distorted. Through the passage of time and generations we lost our ancestral ability to be connected to, and be guided by, the heartbeat of the World Soul. The plight of the feminine and the plight of nature are threads of the same tapestry, and in our current socio-political, economic, environmental, moral, and spiritual crisis there is a deep call to re-member the feminine essence and to revive our reverence towards the spirits of the land.
Altered states of consciousness are potent portals and catalysts for addressing the current imbalances we have created for ourselves, and the world around us.  They can initiate an inner movement towards rewilding, a return to a state of primal power.  We are in need of new myths and paradigms to help us re-birth archetypes of equilibrium, which integrate masculine and feminine forces in our inner and outer worlds. This is a path of wholeness towards psycho-spiritual emergence and individuation.
---
Poems From The Southwark Mysteries
by John Constable (aka jOHN Crow)
with Moksha and Jahnet De Light
The Liberty of the Clink dates back to 1107 when the Bishop of Winchester was granted a stretch of the Southwark Bankside, which lay outside the law of the City of London. Here, the Bishop controlled the brothels, or stews. The whores of The Liberty were known as Winchester Geese.
The Vision Books of The Southwark Mysteries were first revealed by The Goose to John Crow, trickster-familiar of the poet and playwright John Constable, on 23rd November 1996. In these apocalyptic verses, John Crow encounters The Goose at Crossbones, the whores' graveyard unearthed during work on the Jubilee Line Extension. She initiates him into a secret history spanning 2,000 years – a vision of the Spirit in the flesh, the Sacred in the profane, Eternity in time.
This vision informs The Mystery Plays, a contemporary "Southwark Cycle" rooted in the medieval mysteries, retelling sacred stories in the earthy language and context of our own time and place. This epic drama was first performed in Shakespeare's Globe and Southwark Cathedral on Easter Sunday, 23rd April 2000. A new production was presented in Southwark Cathedral in 2010. The third part of the work is a Glossolalia of local history and esoteric lore to be read in conjunction with the poems and plays.
The performance will feature at tantric pulse lead by Jahnet De Light.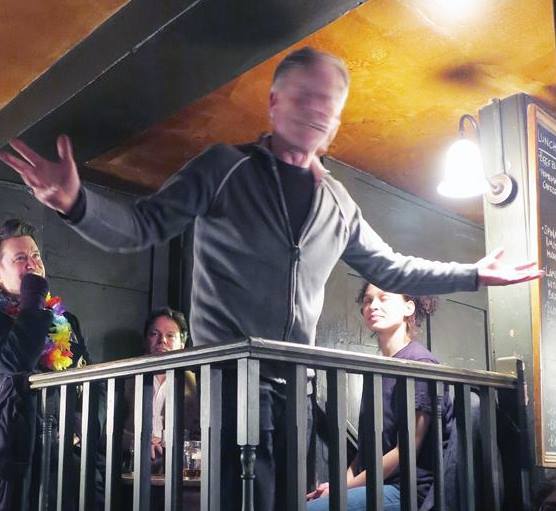 John Constable is a playwright, poet, performer, magical practitioner and founder member, with Ken Campbell, of the legendary 'Mckees' writers group. His many plays include Black Mas, Tulip Futures, and The Southwark Mysteries. Solo work includes I Was An Alien Sex God and Spare, inspired by the life and work of Austin Osman Spare.
He is also widely known as John Crow, the urban shaman who raised the spirit of The Goose at Cross Bones, south London's outcasts' graveyard. In this magical persona, he conducted The Halloween of Cross Bones on thirteen consecutive Halloweens, rituals at The Warp parties and at Glastonbury and other festivals, and vigils at Cross Bones, where he curates a shrine at the gates and campaigns to protect the site as a garden of remembrance.
http://crossbones.org.uk/southwark-mysteries/
Michelle Watson began her creative journey with an acting career, including work with The Natural Theatre Company in Ken Campbell's The Warp and as John Constable's Goose, in The Southwark Mysteries, performing in venues including Shakespeare's Globe.
Inspired by Constable's poetic form, she shifted her attention to writing, becoming Moksha: a respected spoken word artist on the London and festival circuit. She writes issue based plays for teenagers, which are performed by actors throughout the UK and has written a short film on self-harm that won an educational award.
Most recently, she has returned to her first love: songwriting.   She has also fully given into her discordian nature. She co-produced the first run of Cosmic Trigger in 2014 and directed the Find the Others Liverpool Conferestival that ran alongside it.
---
Maybe Logic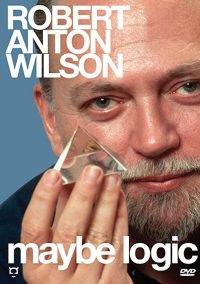 This feature-length documentary is a hilarious and mind-bending journey into the multi-dimensional life of Robert Anton Wilson. It features video spanning 25 years and follows Bob as he penetrates human illusions, exposing the mathematical probabilities and spooky synchronicities of the eight dimensions of his Universe.
---
Noel Kellett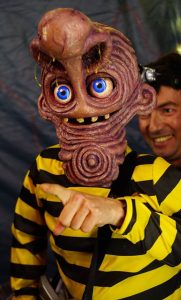 Noel went to college in Hartlepool to train as a prop maker and moved to London in 2002, where he began working in theatre, film and television, making props, costumes and random things ranging in size and shape from theatre sets to stop motion puppets.
Somewhere in the mid noughties he began to notice a recurring face on the walls of Hackney: a well-groomed man smoking a pipe, this turned out to be the living slack master J.R. Bob Dobbs, and his life turned to follow a path of even more eternal slackness.
After numerous musical group disasters, he decided to turn his art to direct confrontation with the public and has been performing on the streets of London with his musical puppets.
Past credits include work on films "Batman Begins" and "Frankenweenie", and extensive theatre and television prop making work.
---
Rachael Stevens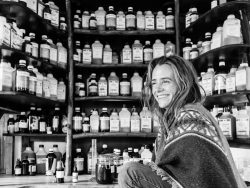 Rachael has always had an interest in plants and alternative medicine. She spent six years completing a degree in herbal medicine and thoroughly enjoys all aspects being a herbalist. Offering consultations, working in the shop, foraging, doing workshops and herb walks and developing new phytotherapy products.
Phytotherapy is modern herbal medicine at its best. It applies scientific research and the highest professional standards to the practice of herbal medicine.Plant medicines have been used for centuries and modern research increasingly supports their efficacy and safety.
Phytotherapy is based on the oldest and most universal system of medicine. Every early civilisation used plants as their main source of medicine and most of the world's population still rely on them today. Around 25% of all pharmaceutical drugs currently prescribed by doctors were originally derived from plants.
---
Steve Balsamo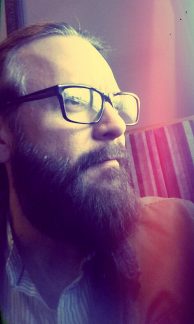 I was born in Swansea, South Wales in 1971 to an Italian father and Welsh mother.
After art school I became a singer and songwriter, travelled the world, performed with some cool cats (I even bothered the charts), and was crucified over 400 times.
I've had a deep interest in esoteric stuff since childhood, and bought my first tarot deck at 15.
I'm married with two kids and when not doing family, musical or magickal things, I read, listen to Radio 4 and enjoy growing my beard.
For more part-truths and posing please visit www.stevebalsamo.co.uk
---
Cosmic Trigger Experience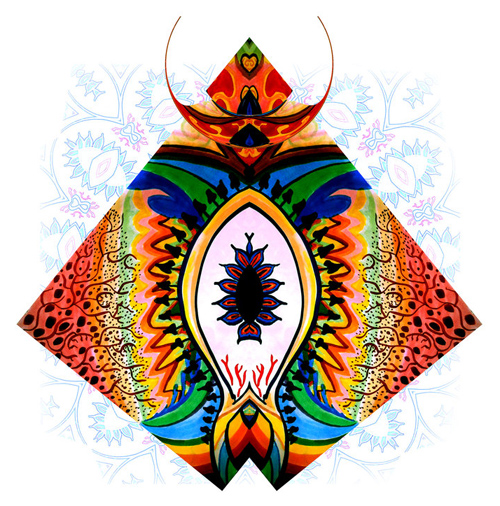 Cosmic Trigger Experience unites brothers Jamie and Tom Grashion in a fractal stream of dub and visuals. Birthed in ritual on the summer solstice of 2014 the brothers embarked on a journey under the alias of 'Cosmic Trigger'. This lead to 4-hour freak sets as a psychedelic-garage rock band at summer festivals, supporting Killing Joke, a mystical 10-day recording session excluded in the depths of Welsh valleys and a performance at the Cosmic Trigger Conferestival in Liverpool 2014.
After a continual shift from one viable mutation to the next the brothers now play together in the psychedelic blues duo 'Space Blaster' with 'Cosmic Trigger' morphing into Jamie's psychedelic dub and trance project. He's recently released the debut 'Cosmic Trigger' E.P. 'Escape From Chapel Perilous' on Youth's legendary Liquid Sound Design record label with an album coming later in the year.
Tom, in the meantime has been involved with recent Ninja Jamm packs including 'Only Heaven' ft. Roots Manuva and has re-kindled his passion for visuals. Visual credits include 'Money Is Not Our God' promo vid for Killing Joke In Dub (available on Killing Joke Official Facebook page).
Like the dissolving of the ego in the heart of a moonlight forest, the Cosmic Trigger experience will leave you howling triumphantly at the mystery and synergy of this; the most unknown and mysterious of all moments.
Hold on to your Pope Hats!
https://liquidsounddesign.bandcamp.com/album/escape-from-chapel-perilous-ep
---